Kim Burke
I would highly recommend without hesitation Aaron Legal Richmond to any person needing Legal help to any extent.
Charlotte and Tracey and Jo….the most professional people,compassionate and understanding too.
Nothing is a bother, to drop ins , phone calls , emails,all of which are very promptly addressed.
I found their advice 100% correct from my first consultation.
Lovely people to deal with.
Thank you Aaron Legal.
Sandra M
Hi Pam,
I highly recommend the team at Aaron Legal. During a very stressful separation and divorce, their compassion and empathy was second to none. They were always available with advice and a sympathetic ear when needed. What a great team. SM
Jason L
I recently purchased an investment property and used the services of Aaron Legal Conveyancing to act for me. I was delighted with their service. The Licensed Conveyancer provided great service and kept me constantly in the loop throughout each step of the Conveyancing process. At the time of purchasing my investment property I also purchased a brand new car, I found the terrific service provided by Aaron Legal Conveyancing made it easier to buy a house than to purchase a new car!!! I would have absolutely no hesitation in recommending Aaron Legal's Conveyancing services to anyone wishing to buy or sell a property. Thanks Aaron Legal! ( Jason L)
John B
I have used Aaron Legal for a number of services now, my family law property settlement and their Conveyancing services for my recent purchase of land. I have always found the staff very helpful and efficient. I would have no hesitation in recommending Aaron Legal for all services. (JB)
Bob G
What I liked most about Aaron Legal was – I felt I was always treated as an individual: consistently Charlotte and Pam could recall where each aspect was up to and how I wanted things done and why. In the messy situation I was left in that really mattered and gave me hope.(Bob G)
Nick P
Dear Charlotte, Pamela and Lisa,
It is with great pleasure that I take this opportunity to place on record my gratitude and appreciation to Aaron Legal of Richmond for their recent conveyancing assistance during the sale of my Parramatta unit.
The matter was attended to efficiently and with a minimum of fuss while I was kept informed throughout of it's progress. Lisa's quiet efficiency contributed to a successful outcome.
However, I must make particular mention of the assistance given by Pamela who, when faced with circumstances brought about by the mortgage provider at the eleventh hour prior to settlement, arrived at an ingenious solution which allowed the matter to proceed as scheduled.
I have no hesitation in recommending Aaron Legal to anyone requiring a professional and efficient conveyancing service.
Regards Nick P.
Shane Mc G
Aaron legal made our lives simple. We purchased a block of land and they took care of everything whilst keeping us informed every step of the way. We thought the process was going to be very complicated but Lisa and Joanne made it simple for us to understand. Thank you very much aaron legal. (Shane Mc)
Jeff and Debbie B
Hi Pam
I want to thank Aaron Legal for all the assistance you have provided my husband and I in the sale of our property at Kellyville Ridge. Through the whole process, regardless of who I spoke to, I felt that I was completely informed and everyone was up to speed with the progress of our sale.
Selling a home can be stressful and your team made the process so easy and painless, assisting with the creation of a power of attorney when my husband proceeded interstate prior to the sale and completing the final sale process without a hitch once I had moved interstate prior to settlement.
Your team has been an absolute joy to deal with and I have no hesitation in recommending Aaron Legal for conveyancing services.
Thank you again for your wonderful service and assistance in selling our property.
Jeff and Debbie B
L and A Newell also M Moyce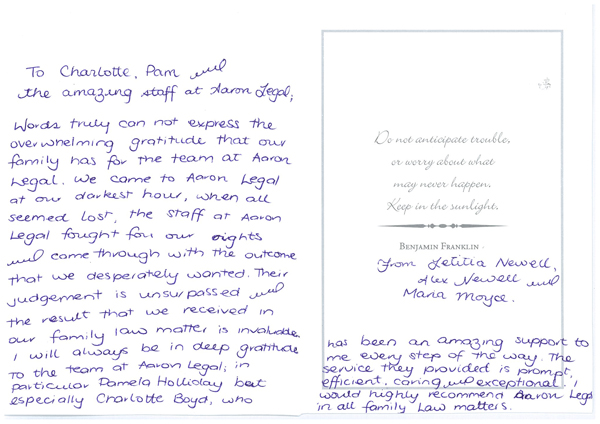 Roz Frazer
Hi Pam
Testimonial for Pam and the Team at Aaron Legal Solicitors:
I would like to thank you all for your professional, courteous, friendly and extremely efficient service.
I haven't had a great deal to do with solicitors but would definitely recommend your services to anyone who needs your assistance.
Right from the moment I called, I knew that I had made the right decision with my choice of solicitor. I was very impressed with the way things were handled and was always kept in touch with how things were progressing.
Even though I live interstate I know that I will be needing a solicitor again in the future and I will have no hesitation is calling upon your services.
I wish you all the very best and thank you again
Roz Frazer
Townsville Queensland